AS SEEN IN THE TIMES!
Limited run based on original World War I design by Edgar Duerr released
– 25% of all sales to be donated to charity –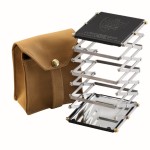 To commemorate the 100th anniversary of World War I, Duerr's have released a limited edition run of 'The Lifeguard Periscope'.
The periscope was invented and patented by Edgar Duerr, a second-generation family member. For use in trench warfare, the collapsible periscope was considered such a significant part of Britain's war effort that originals used by troops are on display in The Imperial War Museums in London and Manchester, in addition to The Guards Museum in London.
The life-saving instrument enabled front-line soldiers to observe enemy movements from 50cm (20 inches) below the parapet, providing them with a view of up to 91m (100 yards).
Approved by the War Office and sold to individuals, the pocket-sized periscope weighed (20oz) and measured 11.5 x 11.5 x 5 cm (4.5 x 4.5 x 2inches) when closed.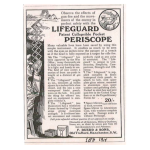 A real collector's item, 100 replicas based on the original design are available for purchase – with 25% of all sales donated to charity.
The limited edition models are fully operational with reinforced frames formed by U-shaped strips to ensure they remain rigid at any point of extension.
Complete with a waterproof khaki pouch, which can be attached to a belt, as originally designed.