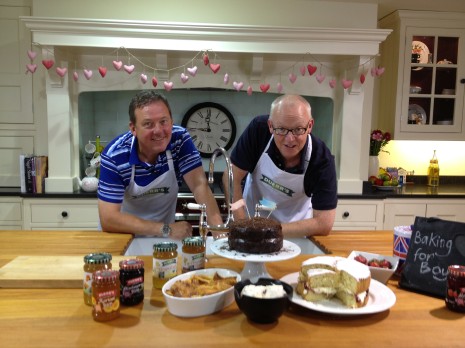 Baking for Boys is back!  And bigger than before.
To celebrate the return of the Great British Bake Off, Duerr's resident master bakers Richard and Paul have dusted off their pinnys to bring you a cheeky slice of the best in homemade British puddings.  The four pun-tastic, tip-laden, easy-to-follow recipes help you to crack a firm bottom that would make Mary Berry, Patron Saint of all bakers, cry.
Ideal for novices across the nation, the online series shows even the least likely how to stiff a meringue, pop their buns in the oven and produce a perfect ring.  If you're looking for a nice slice of innuendo with your next baking session, serve up a super-sized portion of Duerr's Baking for Boys.
So what are you waiting for?  Whip your pin, flour your surface and join us every Friday to cook up some jaw achingly good puds!
Victoria Sponge with Raspberry Jam and Cream
Vanilla Strawberry Jam Ice Cream
Chocolate Orange Cake
Bread and Butter Pudding with Marmalade