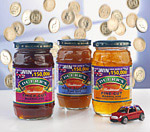 F Duerr and Sons Ltd, the UK's oldest remaining family owned preserves manufacturer, is giving customers the opportunity to win their share of over £150,000 of prizes, including five Mini One's, as part of its latest promotional campaign.
As well as five Mini One's there will be 50 weekend trips to Seville which include return scheduled flights for two people, three nights bed and breakfast accommodation in a four star hotel and £200 spending money. There will also be 5000 recipe books full of mouth-watering dishes and 15,000 50p money off vouchers against any Duerr's variant.
All customers have to do to enter is purchase a promotional jar of Duerr's marmalade – fine cut, thick cut, shredless, grapefruit or half sugar – and look for the unique number code on the label. They will then be asked to visit the website, duerrs.co.uk, and check to see if their number is a winner. If it is, all they have to do is send in the label with winning number and a till receipt which pre-dates their visit to the website.
There will be 950,000 jars with promotional labels, which will be in stores from early November 2003.
Commenting on the promotion, Duerr's marketing director, Richard Duerr said: "We are extremely excited about this promotion as it is the first of this size we have done and we are confident that these are just the kind of prizes our customers would love to win. We expect to see a significant increase in Marmalade sales because of the promotion."
Based in Manchester, Duerr's is an innovative forward thinking company that produces high quality products for everyday use.