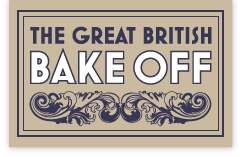 The 2015 #GBBO has ended and we miss it already! If you've not had your fill either, fear not! We've got the top 10 secrets of Great British Bake Off.
1. To make sure all the ovens are working properly, the technical team bake a Victoria Sponge in each of them before filming starts!
2. In 2015 alone, bakers have used 1,600 eggs, 130kg of flour and 150 kg of sugar.
3. Only on the final week are the bakers ingredients bought for them, until then its up to them to open their purse strings!
4. A GGBO runner waits patiently at a supermarket every morning of filming, incase a baker dreams of a forgotten ingredient.
5. Home economists are employed to do all of the washing up after each show!!
6. Tom Hovey, Bristol based illustrator spends two weeks creating the sketches for each episode.
7. Filming each episode can take up to 16 hours and afterwards the goodies baked are shared between cast and crew.
8. Paul Hollywood & Mary Berry keep their relationships with the bakers very professional, only interacting with them inside the tent. However Sue Perkins quite often keeps in touch, as do the bakers with each other.

9. Nothing can be placed into or taken out of the oven without a camera rolling.
10. The Bake Off final had more than 13 million viewers, making it the most-watched TV show of the year.