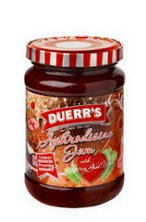 The world's only Aphrodisiac Jam, made with a heady blend of juicy strawberries, finest French champagne and a sprinkling of ground horny goatweed (a 'natural Viagra') is back on sale in time for Valentine's Day 2014.
Ground horny goatweed is thought to be a natural male sexual stimulant. According to legend, this property was discovered by a Chinese goatherder who noticed sexual activity in his flock after they ate the weed. Considered a natural Viagra, it has been used by practitioners for over 2,000 years to boost erectile function and increase libido. Known also as Epimedium or Yin Yang Huo, horny goat weed was first described in ancient classical Chinese medicinal texts and is today sold as a health supplement, usually in raw herb, tablet, or capsule form and sometimes blended with other supplements.
Serving suggestions for the sweet and sticky spread include breakfast in bed and 45-minute 'lie-in', or include it in baked treats like jam tarts to add extra fizz to an afternoon treat.
Richard Duerr, Sales and Marketing Director of Duerr's comments:
"Here at Duerr's we're proud to have been supplying the nation with breakfast fare since 1881. This Valentine's Day, we'll be providing the special ingredient for a breakfast in bed with a difference.
It's great to see that our Aphrodisiac Jam perked up the nation 2013- and our re-release run means that we're set to spread the love all over again."
Duerr's have a dedicated history to providing exciting limited edition jams and marmalades. Easter 2013 saw the launch of an Orange Marmalade with Dark Chocolate – the connoisseur's alternative to an Easter egg and to mark their 125th anniversary in 2006, Duerr's developed the world's most expensive marmalade, costing £5,000 for a 1kg jar. The crystal jar contained marmalade made with 62-year-old Dalmore whisky and vintage Pol Roger champagne.
Duerr's Aphrodisiac Jam is priced at £4.99 + £2.50 postage. It is available to UK residents only.
The limited edition jars of Aphrodisiac Jam are handmade in small batches. They will be dispatched as soon as they are ready; we guarantee that they will reach you in time for Valentine's Day 2014.