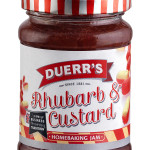 Be like a kid in a sweet shop with the UK's first-ever jam for bakers available now!
Perfect for tarts, roly poly and sponge puddings, the innovative bake-stable formula has been developed by renowned innovators Duerr's – the UK's oldest family owned jam company.
The fruit-packed jams are also ideal straight from the jar and the easy-to-spread texture provides a must-try filling for sponges and cakes, in addition to a lip smacking topping for toast.
Richard Duerr, Marketing Director, says: "This is the Age of the Baker. But while one in seven of us are going bonkers on a weekly basis for firm bottoms, the market – until now -lacked a bake stable jam to deliver results to the standards exacted by our country of skilled enthusiasts. Our home baking jam not only responds to that demand but, with its purposefully inventive flavours, appeals to the experimental spirit of British bakers."
The Manchester-based jam maker, established in 1881, is well known for creating exciting products; most recently celebrating Valentine's Day with a cheeky Aphrodisiac Jam, the first product to be sold exclusively via their website, and the world's most expensive marmalade, costing £5,000 for a 1kg jar.  This year they launched their first branded peanut butter, in smooth and crunchy.
Available in Aldi Stores.